2020 Mercedes-Benz GLC vs 2019 Mercedes-Benz GLC: What's Changed?
With its elegant design, captivating capability, and spacious interior, the 2020 Mercedes-Benz GLC is eager to impress Princeton area drivers at every turn. This stylish SUV has introduced some incredible new features for the new year, and our Mercedes-Benz dealership is here to give you the highlights. When it comes to the 2020 Mercedes-Benz GLC vs the 2019 Mercedes-Benz GLC, it's time to take a look at what's changed.
What's New in the 2020 Mercedes-Benz GLC?
There are five major updates to the 2020 Mercedes-Benz GLC. Let's take a look:
Design Changes
In the 2020 Mercedes-Benz GLC, the headlamp geometry has received a major update. The tops of the headlamps come closer into the grille, creating a familiar "A" shape. There are square LED fiber optics in the taillamps as well, offering a more modern look than the 2019 Mercedes-Benz GLC.
Mercedes-Benz MBUX
2020 Mercedes-Benz GLC drivers will enjoy standard MBUX – Mercedes-Benz revolutionary new infotainment system. The 10.25-inch center touchscreen display allows access to anything you might need, including Voice Control with Natural Language Understanding, also known as "Hey Mercedes". With Mercedes MeConnect, you'll find an expert suite of connectivity services at your fingertips.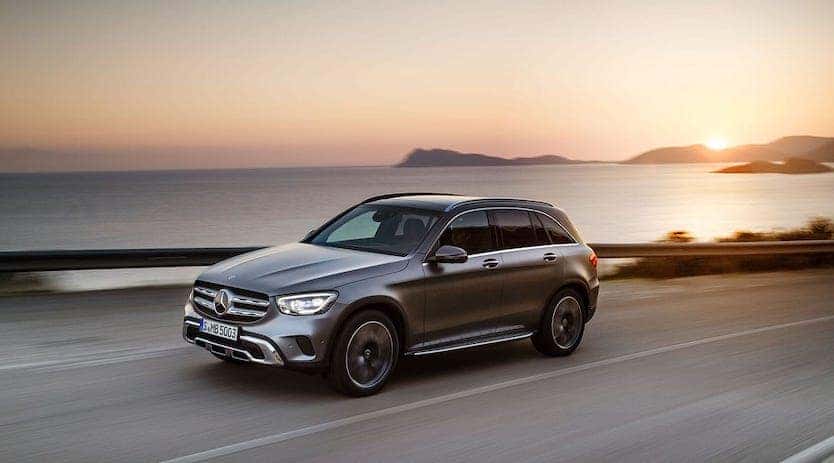 Navigation Upgrades
With MBUX comes many exciting enhancements to your Mercedes-Benz GLC's onboard navigation system. Navigation is extremely easy to use, especially with Intelligent Voice Control. Simply say "Hey Mercedes, take me home" and your GLC will set a course immediately. In addition to navigation, your Mercedes-Benz comes with augmented video – an industry first. If you're pulling up to a turn or destination, a real-time video feed will be overlaid with important information.
Driver Assistance Package Upgrades
The 2020 Mercedes-Benz GLC offers several driver assistance features to enhance your drive. With improved adaptive cruise control and steering assist, the 2020 Mercedes-Benz GLC has the ability to operate semi-autonomously in certain situations.
New Standard Features
The 2020 GLC comes standard with plenty of driver assistance features as well as convenience features to take the stress off your morning commute. Safety is the number one priority for Mercedes-Benz, having made active brake assist and PRESAFE® industry standards.
Get Behind the Wheel of the 2020 Mercedes-Benz GLC near Princeton
There is so much more to discover in the 2020 Mercedes-Benz GLC. If you have any questions or would like to schedule a test drive, don't hesitate to contact us at our Princeton area Mercedes-Benz dealer today.