What's New in the 2021 Mercedes-Benz E-Class Wagon?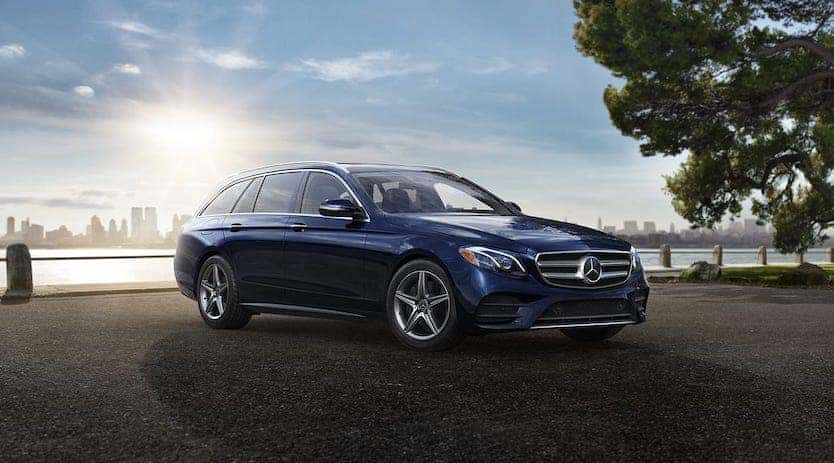 When the new year arrives, so too will the 2021 Mercedes-Benz E-Class Wagon. This stylish wagon is practical, great-looking, luxurious, and rare – and that's enough to make it a favorite among auto shoppers near Princeton. This year, the E-Wagon was updated to emulate its more masculine counterparts and plenty of luxury to be found within. But what's new in the 2021 Mercedes-Benz E-Class Wagon? Allow our Mercedes-Benz dealership to tell you more.
Mercedes-Benz E-Class Inventory
2021 Mercedes-Benz E-Class Wagon Updates
The 2021 Mercedes-Benz E-Class is offered with just one engine: a turbocharged 3.0-liter inline-six. This powerful engine churns out 362 horsepower and is assisted by a 48-volt hybrid system and standard 4MATIC® all-wheel drive.
The E-Class receives an exterior styling refresh for 2021. What was once a stately station wagon has been replaced with a rugged, semi-SUV offering an adjustable air suspension that can raise the car to a higher ride height for better ground clearance.
Inside this luxurious wagon, you'll find more room for passengers and cargo than ever before. Not only is there plenty of space, but there are also plenty of surprises in store as well, such as a stowable, rear-facing third-row seat and an optional scent diffuser with a Mercedes-Benz-specific fragrance. When it comes to cabin materials, you'll find that just about every inch of the 2021 Mercedes-Benz E-Class Wagon is upscale. The base seats are covered in a simulated leather so convincing you'd think it was the real thing! Of course, genuine leather is optional, and you'll get to pick from a variety of interior color themes.
When it comes to technology, you'll find the 2021 Mercedes-Benz E-Class brings innovation to the next level. The sophisticated MBUX infotainment interface is displayed onto a large, high-resolution 12.3-inch screen that is settled into the dashboard. Navigation with real-time traffic and weather updates is standard, as are Bluetooth® phone and audio streaming, Apple CarPlay®, Android Auto™, and USB connectivity.
Princeton Area Drivers Should Keep an Eye Out for the 2021 Mercedes-Benz E-Class Wagon
When the 2021 Mercedes-Benz E-Class Wagon hits the streets next year, you can find it at Mercedes-Benz of Princeton. If you'd like more information about this incredible wagon, don't hesitate to contact us today.