Common Mercedes-Benz Dashboard Lights Explained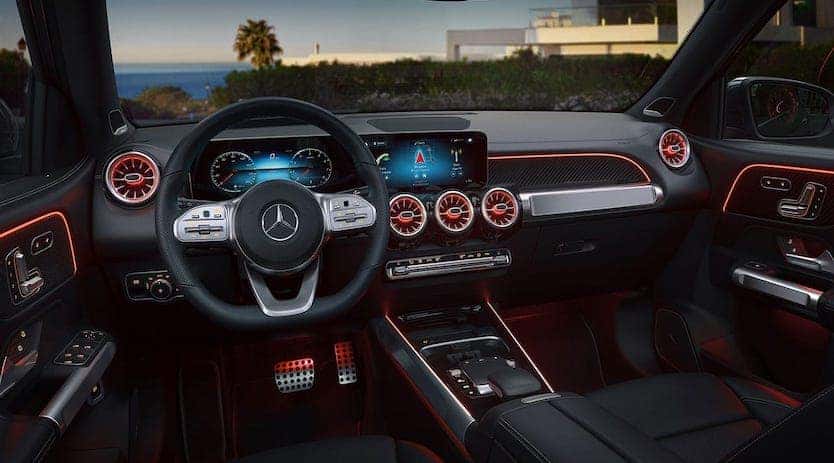 When you see an unfamiliar light illuminate your dashboard, you may feel immediate stress at the sight. Try not to panic just yet! Some dashboard warning lights require immediate attention, such as the ABS or check engine light, but others can be fixed quickly and easily. To ease your mind, our Princeton area Mercedes-Benz service center is here to explain common Mercedes-Benz dashboard lights.
Mercedes-Benz Dashboard Symbols & Meanings
The Mercedes-Benz dash lights are engineered to alert you to an issue going on with your vehicle. Here's what some of those dashboard symbols mean:
ABS Light
Icon: Circle with "ABS" in the center and one curved line on either side
Meaning: This symbol indicates that the Anti-Lock Brake System has been deactivated. If this is the case, your Mercedes-Benz's ESP®, BAS®®, Electronic Brake Force Distribution, and Hill-Start Assist have been deactivated as well. You'll still be able to stop and slow down your vehicle, but emergency braking and traction control will not be available.
ATTENTION ASSIST® Light
Icon: Steaming cup on a saucer
Meaning: The ATTENTION ASSIST® system monitors your driving behaviors for signs of drowsiness. This light is paired with a warning tone, meaning it may not be safe for you to drive due to your vehicle's driving patterns.
Brake Wear Light
Icon: Circle with a dotted line on either side
Meaning: This means the time has come to replace your brake pads or rotors.
Battery Light
Icon: Battery with a plus and minus sign
Meaning: Your battery isn't charging properly. This could be due to an issue with the electrical system or a malfunctioning poly-v belt.
Check Engine Light
Icon: Engine
Meaning: The check engine light may mean you're having engine problems, issues with the fuel or fuel injection systems, ignition, or exhaust. High emissions can also cause the engine to enter emergency mode.
Coolant Light
Icon: Red coolant light
Meaning: Your coolant level may be too low or your vehicle's temperature gauge may be faulty.
Tire Pressure Monitoring System (TPMS)
Icon: Parenthesis around an exclamation point
Meaning: This means that your tires may be losing air or are flat. Our Mercedes-Benz tire center is more than happy to check your tires and provide you with new ones if necessary.
Check Your Mercedes-Benz Dashboard Lights With Our Princeton Area Service Center
The next time a dashboard light comes on, you'll know exactly what it means. If you have any questions or need your Mercedes-Benz dash lights further explained, don't hesitate to contact us at our Mercedes-Benz dealership serving Princeton and Hamilton. Our service experts are more than happy to help!