Fundraiser Will Help South Brunswick Boy Provide Training For His Service Dog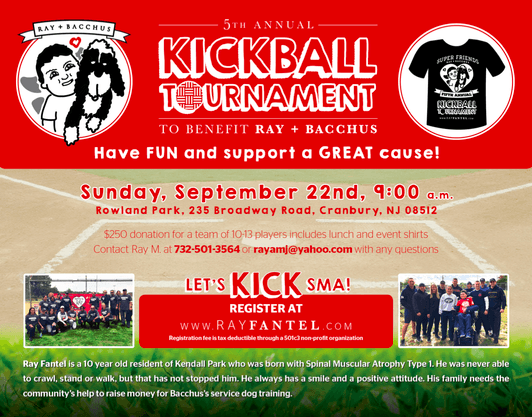 Ray Fantel, an inspirational 10-year-old boy from Kendall Park living with an incurable and terminal genetic disease, will be the beneficiary of a charity kickball tournament from which all proceeds will be donated to the training of his service dog.
Bacchus, Ray's new best friend, is a black and white Bernese Mountain Dog and Poodle mix, known as a Bernedoodle. The pup was gifted to Ray and his family by Highfalutin Furry Babies, a Florida boutique breeder.
The charity kickball tournament will allow Bacchus to receive the training he requires to be the best dog he can be. The fifth annual kickball tournament to benefit Ray and Bacchus will be held Sept. 22 at Rowland Park in Cranbury at 9 a.m. A tax-deductible entry fee for each team, which may consist of 10 to 13 players, is $250.
As a sponsor of the event, Mercedes-Benz of Princeton, would like to encourage you to register and learn more about Ray and his amazing story.
Money previously raised from the annual kickball tournament has helped to cover some of Ray's medical expenses, including repairs to his handicap accessible van, an overhead lift system, a wheelchair lift for access to the house and specialized therapies.
For more information on Ray, Bacchus, and the charity kickball tournament, check out the article from My Central Jersey here.