How To Change The Battery in Mercedes-Benz Key Fob?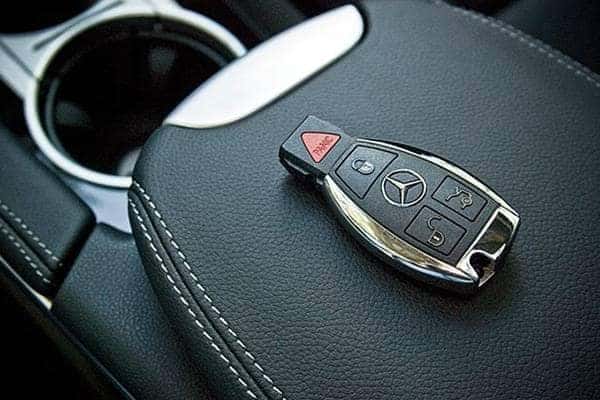 When you find your Mercedes-Benz key fob is no longer working, it may be time to change the battery. When your key fob stops working, it's much more than an inconvenience. You'll still be able to start your car manually, but you'll lose your panic and remote start functions. Luckily, Princeton area Mercedes-Benz drivers will find replacing the battery on a Mercedes-Benz key fob simple! Follow our Mercedes-Benz service center's easy step-by-step guide and you'll be back on the road in no time at all.
Which Mercedes-Benz Key Fob Do You Have?
Mercedes-Benz offers two different key fobs and the type of key fob you have depends on how many CR 2025 batteries you'll require. Here are the two types of batteries and how you'll change them:
Smart Key: Made for older Mercedes-Benz vehicles, this key fob is usually made of plastic. Both the new and old versions of this key need two batteries.
Chrome Keys: If you have a newer Mercedes-Benz vehicle, you most likely have a Chrome Key. This key has a metal casing and can come in one of two versions: a new model and an old model. The new version of this key needs one battery, and the older version of this key needs two.
How To Open Your Mercedes-Benz Key Fob
The process for how you'll change your Mercedes-Benz key fob differs for each version.
To open your Smart Key, follow the following steps:
Pull the sliding tab on the key, and pull out the key that is inside of the fob.
Then, move the key to the opposite side of where it can be inserted completely, and push down towards the fob.
Remove the back of the key, and take out the old battery. Put the new battery in its place, making sure that the new battery is facing the right way.
To open a Chrome Key, follow the steps below:
Find the silver, square-shaped tab on the bottom of the Chrome Key. Pull on this bottom tab until the key releases from the fob.
Push the key into the small gap in the fob. The gap will be visible after the key comes out.
After the cover is off, you will see the old battery. Take out the old battery, and put the new battery in the fob facing the correct way.
Mercedes-Benz Drivers near Princeton are On The Road Again
If you have any questions or would like some assistance in replacing your Mercedes-Benz key fob's battery, don't hesitate to contact us at our Mercedes-Benz dealership near Princeton today.